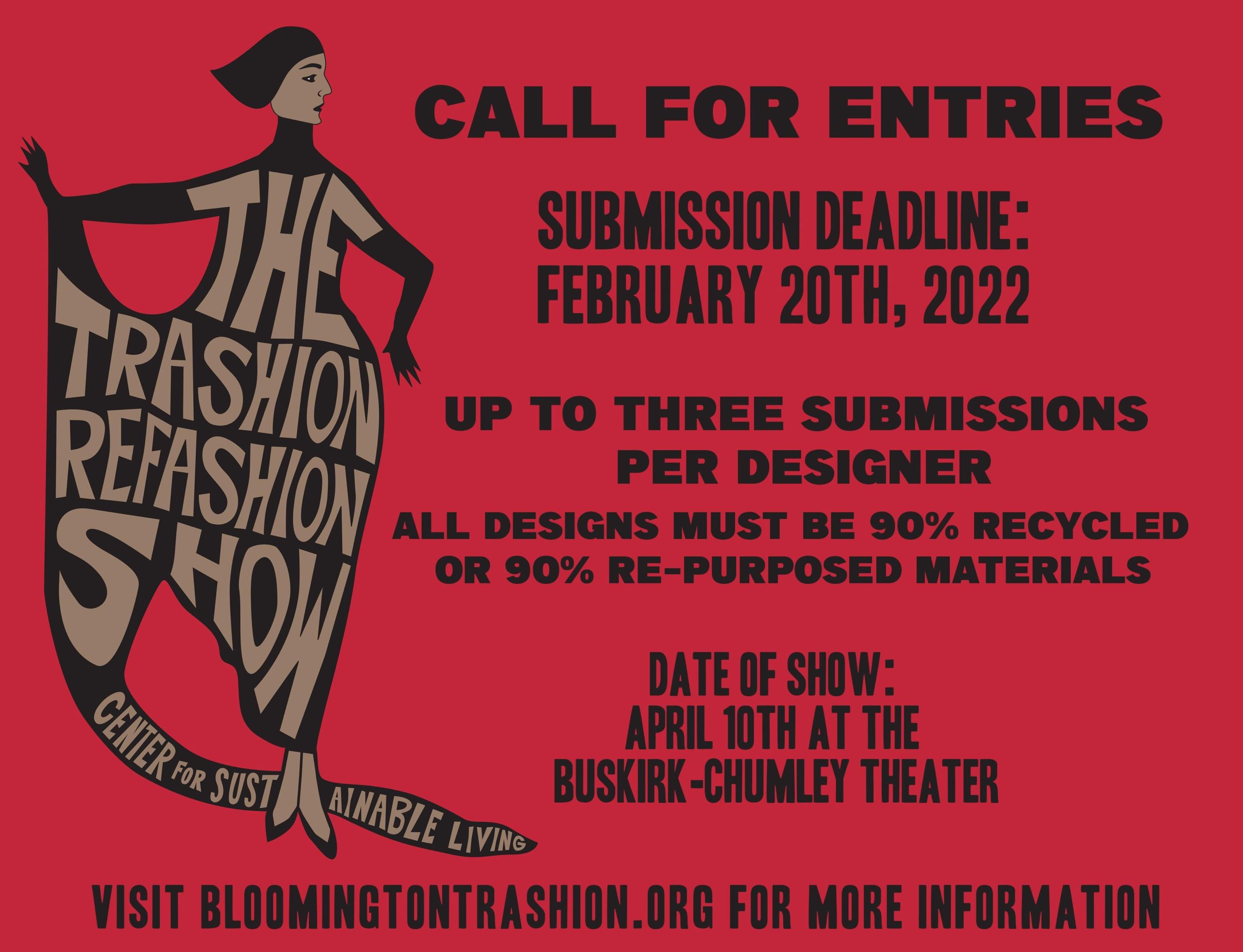 Submit Your Design
Welcome Designers! Your effort and creativity make this show possible. With much gratitude, the Trashion Committee is accepting submissions for the 2022 Trashion Refashion Show starting December 1st 2021.
All submissions must be made using EasyChair. If you have made submissions with EasyChair in previous shows you can reuse your existing login credentials.
Please review the submission instructions carefully.
Also, please note we are also looking for Trashion models. The Call for Trashion Models link is below the submission instructions and can be used to submit a model's information.
If you have any questions please contact us by email to contact@bloomingtontrashion.org.
Submission Instructions
The Trashion Refashion Show is open to all applicants. The 2022 show happens on April 10th at the Buskirk-Chumley Theater. Please note that we will comply with the theater's COVID policy in place at the time of the event. Information on the theater's COVID policy can be found at Buskirk-Chumley Theater website.
To be considered for the Trashion track, 90% of your materials must come from previously discarded non-clothing materials diverted from the waste stream such as plastic drinking straws or newspaper.
To be considered for the Refashion track, 90% of your materials must come from discarded materials which can also include clothing that is no longer valuable such as used pieces in your own wardrobe or thrift store clothing. If clothing is used it should be significantly transformed in some way such as a jacket transformed to become a vest.
When completing the form, please enter a legal name and valid email address for the Author of the application. You will get a chance to give us a preferred name for the runway later in the application. Feel free to use "Trashion" as your organization. For the three required keywords, any three words will do, but we'd love to see what keywords you think best describe your garment.
Work must have been executed within the last 3 years and not previously shown in a juried competition. Work must be constructed by the designer(s). If more than one person contributes to a design, the creators will be designated as co-designers.
Garments submitted should be full ensembles. If they are not, please consider teaming up with another designer to complete an entire look.
Each designer and co-designer are allowed to submit up to 3 entries.
This application will require at least 3 images of the front, back, and details of your constructed garment. If you can put your design on a model or dress form, it will help us better judge your design. Please include pictures of your raw materials if possible.
Designers with accepted submissions and their models are required to attend:

First rehearsal on Sunday afternoon March 27th
Second rehearsal on Sunday afternoon April 3rd
A dress rehearsal Sunday afternoon April 10th (day of show) at the Buskirk Chumley Theater
The event the evening of Sunday, April 10th at the Buskirk Chumley Theater

Deadline for applications is February 20th 2022. You will receive an email from EasyChair when you successfully submit your design.
All applicants will receive notification of acceptance or rejection by February 28th 2022.
Call for Trashion Models
Interested in modeling for Trashion?
About
The Trashion Refashion Show is produced by Discardia, a project of the Center for Sustainable Living. Designers make fashion out of materials destined for the landfill. Our runway event has inspired designers, students, community members, and even children to find new ways to reuse discarded materials in a creative way. It's an event for the whole family you don't want to miss.
Open to all skill levels, anyone can submit their design and any model can walk our runway regardless of body type or experience. We work with a variety of people, ranging in age from elementary school to senior citizens. With such a wide demographic of designers, our entries have become more challenging and inspiring each year.
Even the giant scale stage sets are made from discarded or unwanted materials every year!